Remember when it was said that
that the US actually took out the Russian ship Moscow?
They finally admitted to it today.
This is from CIA mouthpiece, NBC.
May 5, 2022, 2:31 PM PDTBy Ken Dilanian, Courtney Kube and Carol E. Lee
Intelligence shared by the U.S. helped Ukraine sink the Russian cruiser Moskva, U.S. officials told NBC News, confirming an American role in perhaps the most embarrassing blow to Vladimir Putin's troubled invasion of Ukraine.
A guided missile cruiser carrying a crew of 510, the Moskva was the flagship of Russia's Black Sea Fleet. It sank on April 14 after being struck by two Ukrainian Neptune anti-ship missiles, U.S. officials said. Moscow said the vessel sank after a fire. The Moskva was the largest Russian warship sunk in combat since World War II. American officials said there were significant Russian casualties, but they don't know how many.
The attack happened after Ukrainian forces asked the Americans about a ship sailing in the Black Sea south of Odesa, U.S. officials told NBC News. The U.S. identified it as the Moskva, officials said, and helped confirm its location, after which the Ukrainians targeted the ship.
The U.S. did not know in advance that Ukraine was going to target the Moskva, officials said, and was not involved in the decision to strike. Maritime intelligence is shared with Ukraine to help it defend against attack from Russian ships, officials added.
The U.S. role in the sinking has not been previously reported. But NBC News detailed last month how American intelligence shared with Ukraine had been instrumental in Ukraine's successes to date, including in helping Ukraine target Russian forces and avoid Russian attacks.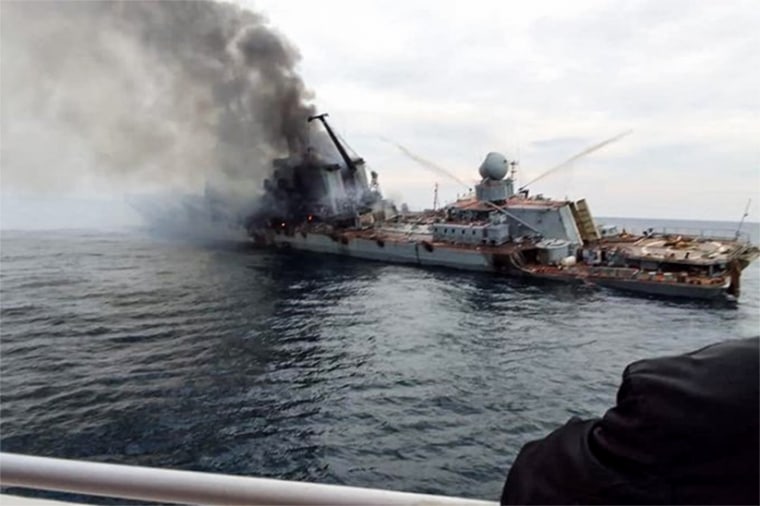 American officials have expressed concerns that reporting about U.S. intelligence sharing with Ukraine could anger Putin and provoke an unpredictable response.