Congressional Black Caucus & Biden HUD Nominee Sent Constituents on Chinese Govt-Paid Trips to Laud "Amazing Communist Country."
The Congressional Black Caucus has repeatedly met with, accepted trips from, and subjected constituents to programs from the China-United States Exchange Foundation: a Chinese Communist Party-backed group seeking to "to co-opt and neutralize sources of opposition to the Chinese Communist Party" and encourage "positions supportive of Beijing's preferred policies."
The Congressional Black Caucus (CBC) counts membership from most black elected officials in Congress, including high profile representatives such as Rep. Maxine Waters and Sen. Cory Booker. Other members include the Somali-origin Rep. Ilhan Omar, and prior to becoming Vice President, the Indian-Jamaican origin Kamala Harris.
The caucus claims to tackle racism and "marginalization," but as The National Pulse can exclusively report today, it collaborates with one of the most racist, repressive, and genocidal regimes in history: the Chinese Communist Party.
Leading many of the efforts – including sending constituents on trips and accepting trips herself – is Joe Biden's own pick for Housing and Urban Development (HUD) Secretary: Rep. Marcia Fudge (D-OH).
For over a decade, the caucus has maintained a relationship with the China-United States Exchange Foundation (CUSEF), a Chinese government-backed grouped recently exposed by The National Pulse for sponsoring trips to China for journalists and politicians in exchange for "favorable coverage" and part of the country's United Front efforts "to co-opt and neutralize sources of opposition to the Chinese Communist Party" and encourage "positions supportive of Beijing's preferred policies."
The Congressional Beijing Caucus.
The program – the African American Students Exchange Program – was inaugurated in 2012 and operates "in cooperation with the Congressional Black Caucus." Since its inception, it has hosted over 750 students and is "funded by the Chinese Ministry of Education."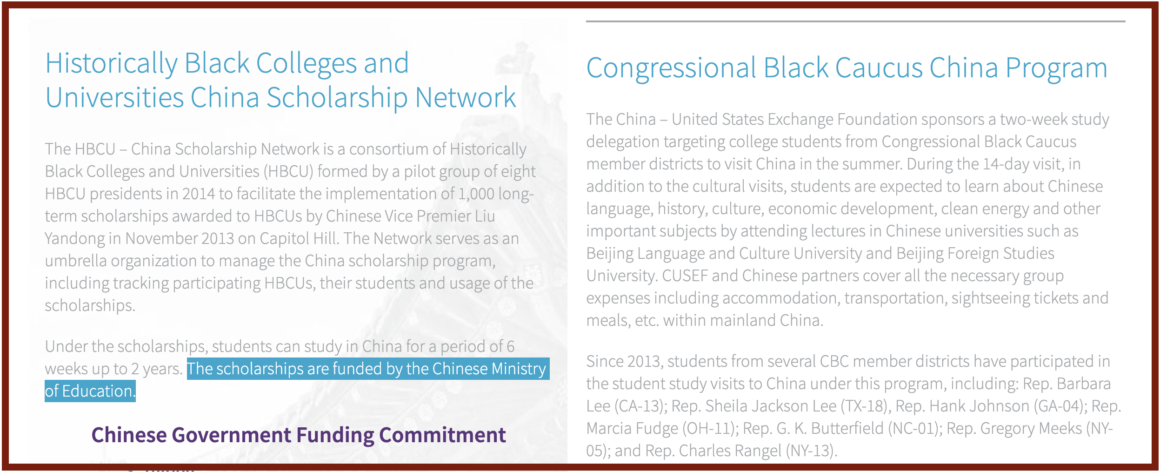 In addition to students, Historically Black Colleges and Universities (HBCU) leaders have attended separate delegations, meeting with Chinese Ministry of Education officials and planning "organizing an HBCU presidential class, joint research, and student and faculty exchanges."
Many of the students selected for the delegations come from CBC members' districts.
"An Amazing Communist Country."
According to a summary of the program, CUSEF "sponsors a two-week study delegation targeting college students from Congressional Black Caucus member districts to visit China in the summer."
"Since 2013, students from several CBC member districts have participated in the student study visits to China under this program, including: Rep. Barbara Lee (CA-13); Rep. Sheila Jackson Lee (TX-18), Rep. Hank Johnson (GA-04); Rep. Marcia Fudge (OH-11); Rep. G. K. Butterfield (NC-01); Rep. Gregory Meeks (NY-05); and Rep. Charles Rangel (NY-13)," the program description adds.
Students appear honor-bound to write glowing reviews of their trip and their sponsors, even denigrating America along the way.
One testimonial from June 2017 asserted that the "culture and history of China far exceeds those of the United States" and said the trip would help them "spread the positive light of an amazing communist country":
"I learned that the culture and history of China far exceeds those of the United States – exceeds it so well, it's predicted that China will be the #1 country of foreign policy and investments in less than 20 years. Open your eyes and your mind, research for yourself and don't be corrupted by the misinterpretation the classrooms feed us.
God knew that I needed to participate in this program. He saw me fit to be one of the 20 students that will help spread the positive light of an amazing communist country as well as help bridge that gap between the China-US cultural exchanges."
Foreign Agent Registration Act (FARA) filings with the Department of Justice (DOJ) also reveal the Chinese government had to approve the exchanges, as a formal invite from a professor at state-run Lanzhou University notes they "expect that their visit will effectively promote U.S.-China friendship and a better understanding of the Silk Road culture for the young generation."
Among the places visited on the delegation were state-run universities, state ministries, and the Chinese People's Association for Friendship with Foreign Countries (CPAFFC).
The CPAFFC, which has been described by the State Department as seeking to "directly and malignly influence" U.S. officials, is led by the daughter of a former Chinese Communist Party paramount leader and "avowedly an arm of the party-state."
Beijing Biden (Yes, Again).
Rep. Fudge, an Ohio Congresswoman who's sent constituents on CUSEF trips, is also President Biden's pick for HUD Secretary.
Her congressional website contains a press release – "Rep. Fudge Hosts China's Vice Premier Madam Liu Yandong Who Awarded Scholarships to Black Students" – celebrating the Chinese Communist Party sponsoring trips and scholarships for HBCU students and students in districts of CBC members.
"I'm here to announce a decision by the Chinese government to award 400 scholarships for college and middle-school students to study in China," the Chinese Communist Party Premier noted.
Rep. Fudge emphasized she "welcomed" the communist apparatchik "to our nation's capitol" and "looked forward" to the prospect of students using Chinese Communist Party-backed scholarships:
"We welcome Madame Liu Yandong to our nation's Capitol, and are proud to be part of this historic event," said CBC Chairwoman Marcia Fudge, Congresswoman (OH-11). "Through this generous award to CBC districts, and the continuing efforts of CUSEF, the National Urban League, and HBCUs, the CBC looks forward to providing 400 young scholars the opportunity to experience studying in China, one of the world's leaders in global commerce, industry, culture and education," Fudge said.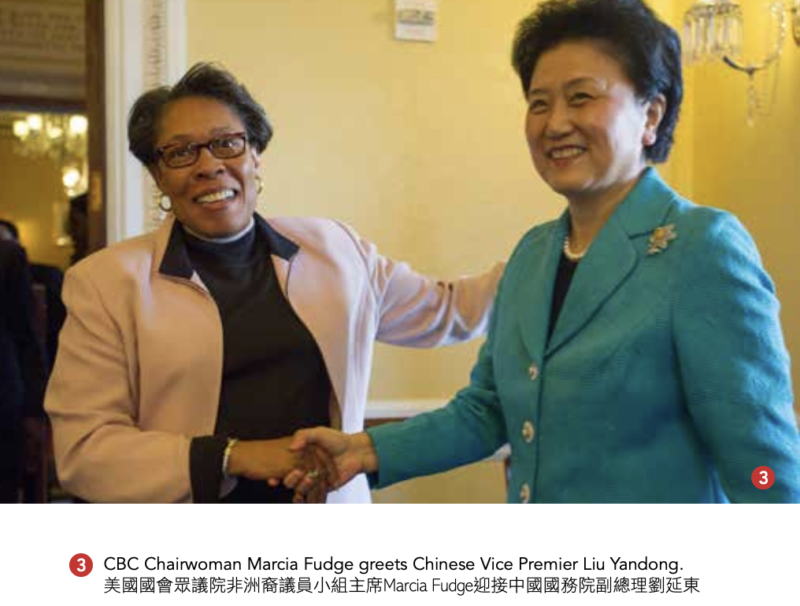 As a result, the inaugural group of the exchange was called the "Marcia L. Fudge Inaugural Cohort," and earned immense praise in the 2014 edition of the CBC's magazine.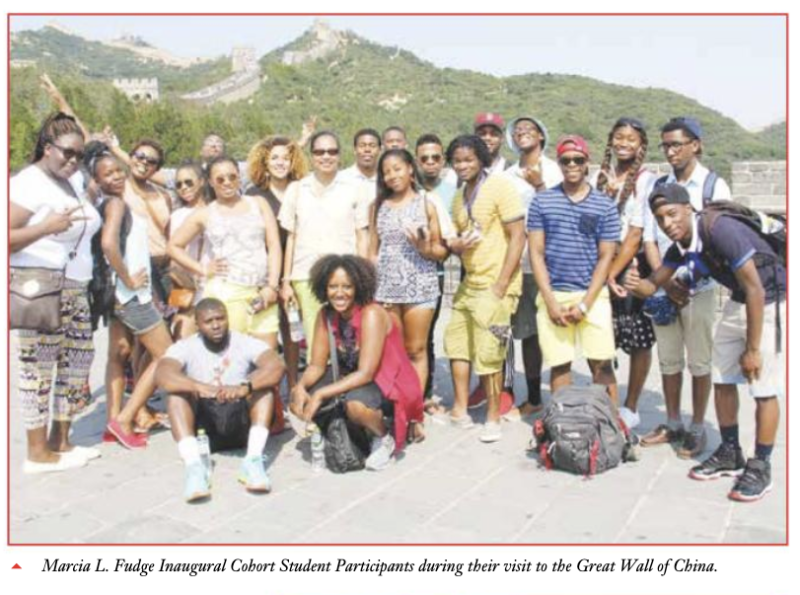 Bought and Paid For.
In addition to CBC members subjecting constituents to Chinese Communist Party propaganda, the elected officials have also personally accepted trips from the organization.
"10 members of the Congressional Black Caucus (CBC), led by Chair Marcia Fudge, traveled to China in August 2013 on a Congressional delegation," a summary notes.
A CUSEF brochure adds that the trip was the "foundation's first successful effort to bring in current Congressional Members to China," and saw members meet with high-level Chinese Communist Party leaders.
Rep. Marcia Fudge's confirmation hearing for her Biden-nominated position of Housing and Urban Development Secretary took place in late January, with a vote on her confirmation due any day.